We scoured the internet to find the coolest Halloween Costumes for boys under $50. Here's our list for 2022. Some of these costumes would be great for girls too.
It's the most wonderful time of the year! Free candy time! Halloween is fast approaching and it's time for all the trick-or-treaters to get ready to hit the streets and fill those bags with loot. Finding cool costumes that kids will actually be excited to wear can be pricey and time-consuming. Of course, you can simplify the whole process by finding great costume ideas that will arrive at your door via Amazon Prime in just a day or two. The following is a list of the best costumes for boys for $50 or under.
Inflatable T-Rex Costume for Kids – Approx: $50
Kids love dinosaurs! Adults love dinosaurs! Paleontologists REALLY love…….well you get the idea. So how can you possibly go wrong with an inflatable T-Rex costume? This is an instant classic that will get a lot of smiles, laughs, envious glares, and maybe even full-sized chocolate bars.
Mandalorian Star Wars Costume for Kids – Approx: $33
Did you let your child watch the Mandalorian? Well, no judgment here. Even if your little one has never seen the show, the Mandalorian's helmet and armor are easily one of the neatest-looking get-ups in the whole Star Wars franchise. This is the way….to get loads of candy from all the Star Wars fans in your neighborhood.
Mario Riding Yoshi Costume for Kids – Approx: $35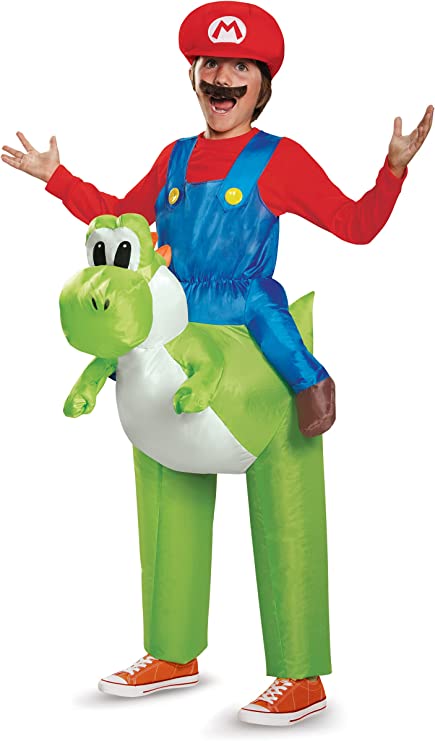 As if dressing up like Mario wasn't cool enough! This costume takes it further by letting your little Mario appear to be riding his pal Yoshi. One of the most iconic video game characters of all time. Your child and video game players alike will be loving this one.
Minecraft Armor Costume for Kids – Approx: $35+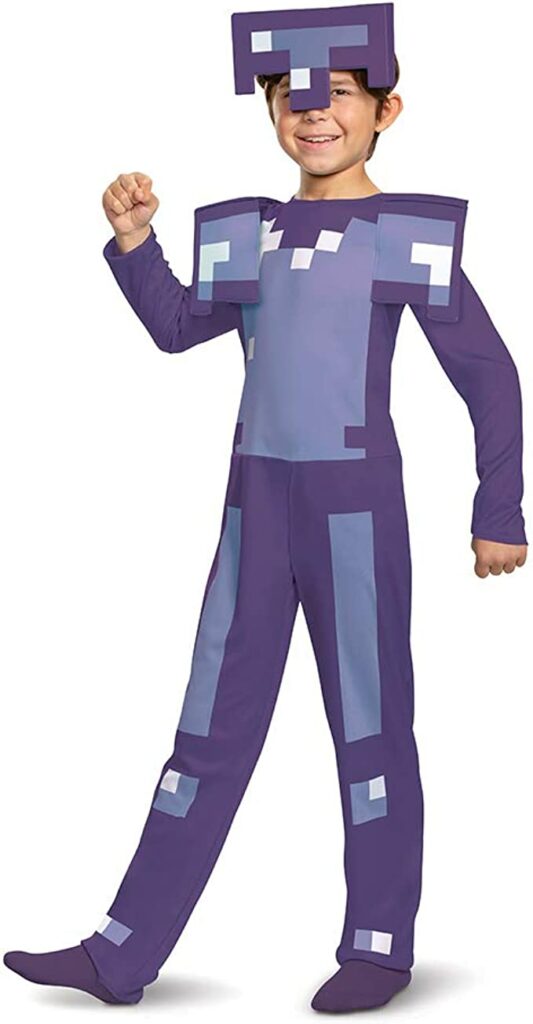 Does your child love playing Minecraft? Are you confused about the appeal of Minecraft? Well, if your child's heart is set on a Minecraft-themed costume, understanding the appeal of that weird game isn't crucial. Just order this officially licensed Minecraft costume and your work is done.
Optimus Prime – Transformers Costume for Kids – Approx: $49+
Some things never go out of style. Transformers are definitely one of those things. For decades kids have been watching the Auto-Bots, and specifically, Optimus Prime, battle those pesky Decepticons. Show your neighbors whose side you are on by dressing your child in this Optimus Prime costume.
Maverick Flight Suit – Pilot Costume for Kids – Approx: $36
Kids of all ages admire pilots! Especially pilots who fly fancy fighter jets and also take the time for a slow-motion beach volleyball game now and then. Think of all the possibilities with this one! Perhaps a Bluetooth speaker with the Top Gun theme playing on repeat would be perfect for letting your neighbors know your kid has arrived at their door.
Inflatable Alien Abduction Costume for Kids – Approx: $49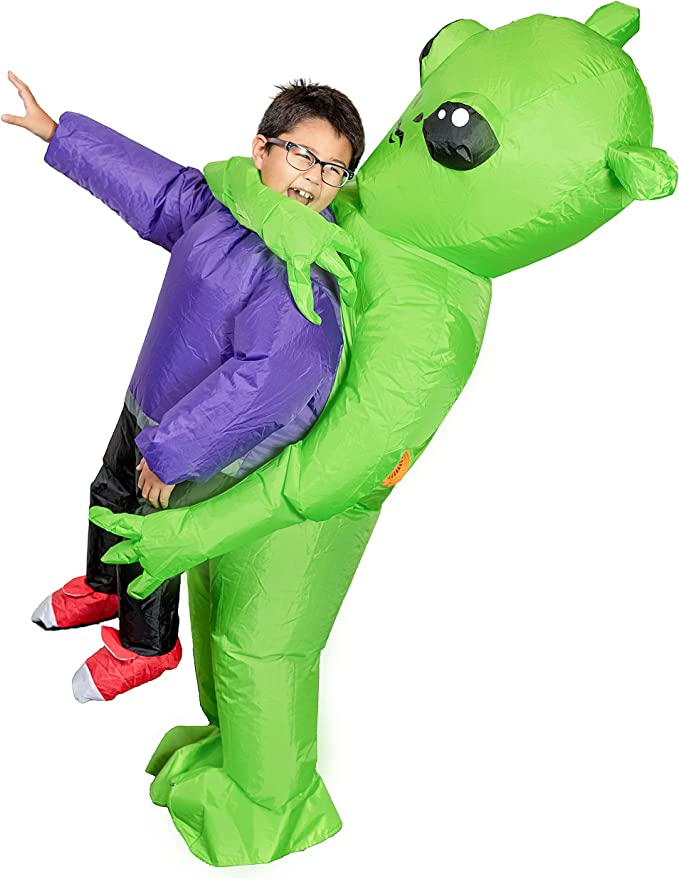 Do aliens qualify as 'spooky'? Seeing your child get snatched away by a little green man is definitely a spooky thought! You can easily achieve that level of spookiness with this inflatable alien abduction costume for kids.
This one is so funny. Sure to get many looks and laughs.
Grim Reaper with Glowing Eyes Costume for kids – Approx: $30
Who doesn't feel a little uneasy at the sight of the Grim Reaper wandering around the streets? This classic costume also has the added feature of glowing eyes, which will easily strike fear into the hearts of, well, everyone who isn't dead yet.
Pikachu Costume for Kids – Approx: $29+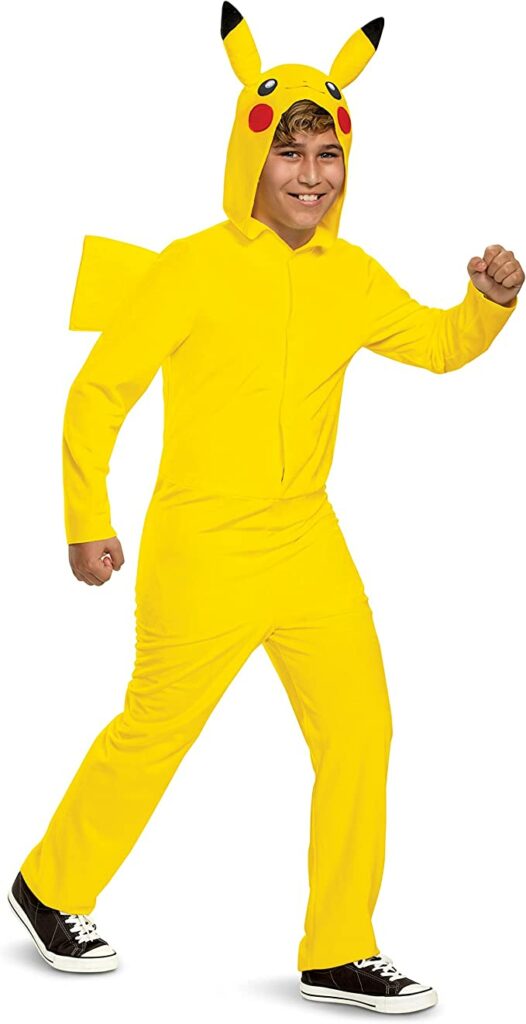 Pokemon is super cool! Pikachu is easily one of the most recognizable and fun costumes for your little Pokemon fan. You can also teach your child to do the 'Surprised Pikachu' face to make things even more interesting! A strong knowledge of funny memes can only help in getting more candy.
The Last Airbender – Aang Kids Costume – Approx: $29+
For any The Last Airbender fans out there, this Aang costume is a sure bet. This gives you the chance to break out your best Uncle Iroh impersonation from the end of the driveway, as your Aang air bends some extra candy into their bag.
Inflatable Ridable Dinosaur Kids Costume – Approx: $41+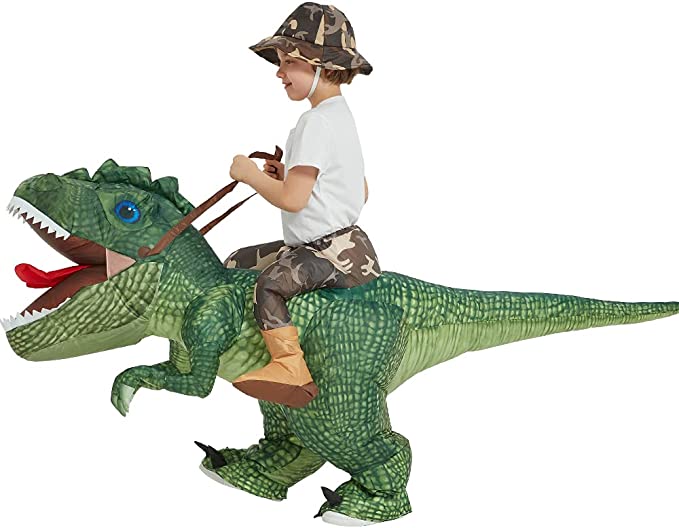 Hilarious to watch, and even more fun for kids to "ride". Make your child the talk of the neighborhood with this awesome dinosaur inflatable costume. Navigating the streets with a T-rex is sure to get some extra candy.
14 Piece Police Custome and Toys for Kids – Approx: $36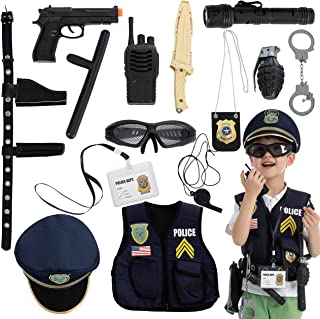 Play gun, knife, handcuffs, flashlight, baton…even a grenade! This is a dream come true for many boys. So many things to play with…and it doubles as a Halloween costume. Dress your child up as an officer of the law…and give them loads of toys to play with as an added bonus. With all those toys, maybe they won't eat as much candy!
Get the Best Halloween Costumes Quickly!

There you have it! 12 easy-to-purchase costume ideas that your kids will love for a price that will leave you some extra cash for the next holiday season.
Amazon Prime offers free shipping and 1 or 2-day delivery on a bunch of great Halloween costumes. Sign up now for a free trial via the link above and get free shipping on the costume of your choice. Cancel at any time. Get your little trick-or-treaters ready for the big day!
With Amazon Prime, you also get exclusive access to Thursday Night NFL football (a Halloween gift for your football-loving partner?), the new Lord of the Rings TV series, free music, and a lot more.
Last update 2022-10-17 at 11:53