We scoured the internet to find the coolest Halloween Costumes for girls under $50. Here's our list for 2022. Some of these would make funny costumes for boys as well!
Halloween is closing in fast and time is running out to get that perfect costume that your kid will love. School parties, trick-or-treating, or even helping to pass out candy with mom and dad will require a costume your daughter will be excited to wear this year.
You can make things simple and have the perfect costume delivered to your door in a day or two with Amazon Prime.
The following is a list of the best costumes for girls for under $50 for 2022. Have a look! At the bottom of the article, you also find a list of the best-selling costumes for more ideas.
Hippie Costume for Girls $32+

Let your child run wild and free! Here's the perfect costume for embracing peace, love, and all those positive hippie vibes, even when things get a little spooky out there. It comes with everything you need for a super chilled-out Halloween. Peace sign emojis for all!
Ninja Costume for Girls – $28+
Everyone knows ninjas are super stealthy and cool! Dress your little one as a ninja this Halloween and strike fear in the hearts of all the bad guys, dragons, and mythical beasts. Wait! Do ninjas fight dragons and mythical beasts? They sure could, if they wanted.
Inflatable Unicorn Rider Costume for Girls – $37+
Riding an inflatable unicorn around the neighborhood sounds like something that could be fun on any day of the year! Your child can gallop around effortlessly, dodging the ghouls and ghosts of Halloween night in style with this whimsical costume. Onward to the candy!
Light-Up Witch Costume for Girls – $24
What could be better than dressing up like a witch for Halloween? Well, dressing up like a witch with a costume that lights up of course! Add some extra flash to the traditional witch costume and go with this LED-lit get-up. Spooky with added safety when it gets dark out.
Alien Abduction Costume for Girls – $43
Although aliens might not be the first thing that comes to mind when you think of Halloween, being abducted by an alien is a terrifying thought! This inflatable alien abduction costume taps into that fear, but will probably get more smiles and laughs throughout the night than terrified screams. Both are acceptable, right?
Pikachu Costume for Girls – $17.50+
Kids and adults alike are crazy about everything Pokemon! So, obviously, Pikachu is a perfect costume choice for wowing all the Pokemon fans and flashing your best 'surprised Pikachu face' at all the T-Rexes and trolls who are out and about on Halloween night. What fun!!
Pizza Costume for Girls – $32
Now your kid can spend their Halloween as one of the most universally loved foods of all time! Pizza is never a bad choice, and neither is dressing up as this ever-popular food item. Get creative and add some extra toppings of your choice, or keep it classic.
Inflatable Dinosaur Costume for Girls – $43
If simply riding on the back of a dinosaur isn't good enough, your child can become the dinosaur itself with this lighthearted option. This colorful costume will really stand out and will be a sure hit with all the dinosaur lovers. Which is everyone, right?
Glow in the Dark Skeleton Costume for Girls – $18+
Skeleton costumes and Halloween have gone hand in hand for decades now. This particular skeleton suit kicks things up a notch with the added feature of glowing in the dark! Easily keep an eye on your little one in the spooky darkness as they light up the night! So cool!
Minecraft Creeper Costume for Girls – $25+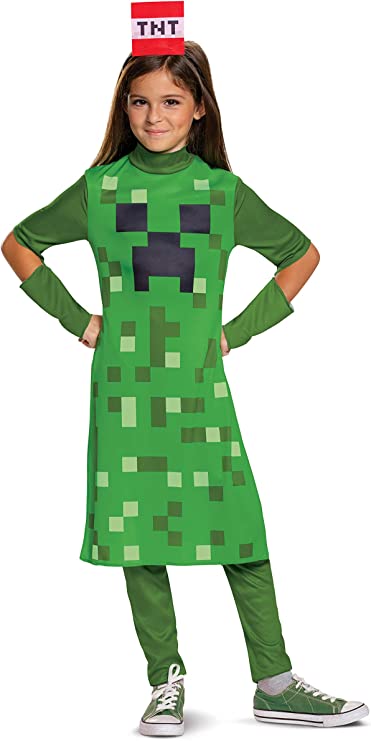 Whether you are confused by Minecraft or a fan of all the weirdness and wonder, your Minecraft-loving child will be thrilled to go trick-or-treating in this Creeper outfit. Creeping up on people and making loud explosion sounds is just part of the possible fun! (It's what Minecraft Creepers do).
Little Red Riding Hood Costume for Girls – $27
Here's an instantly recognizable and totally classic costume choice for Halloween this year. Little Red Riding Hood has been a well-known fairy tale going all the way back to the 17th century. A perfect option for wandering around in the woods and chatting with sly wolves. Or maybe skip that part and go get some free candy…
Get the Best Halloween Costume for Girls Quickly

That's it, folks! The best Halloween costumes available for girls for under $50 in 2022.
Amazon Prime offers free shipping and 1 or 2-day delivery on a wide variety of fun and creepy Halloween costumes for girls. Sign up for a free trial via the link above and get free shipping on your child's costume. Cancel at any time.
Order early and get ready for all the Halloween fun! With Amazon Prime, you also get exclusive access to Thursday night NFL football (a Halloween gift for your football-loving partner?), the new Lord of the Rings TV series, free music, and a lot more.
Bestseller No. 1
Soyoekbt Girls Unicorn Costume LED Light Up Unicorn Princess Tutu Dress for Birthday Party Halloween...
GIRLS UNICORN COSTUME-- Classic sequin unicorn dress, unicorn tutu dress and headband with LED light,the dress looks like glowing,your girls will be love it.
GIRLS UNICORN OUTFIT INCLUDE--1 unicorn dress with colors LED + 1 unicorn headband with LED +1 wings without LED.
LED LIGHT UP UNICORN PRINCESS DRESS-- Suitable for girls aged 3-4years, 5-6years, 7-8years.unique design,bow-tie knot at the top of the back,easy to put on and take off.
OCCASION--Perfect for unicorn theme party, birthday, Christmas party, gifts, Halloween, prom, dance recital party, photo prop, dress up, role play and so on.
DO NOT WASH.Please purchase 3 Pack AAA batteries separately.
Bestseller No. 2
Bestseller No. 3
ZZIHAN Doctor Costume for Kids Pink Scrubs Sets Nurse Scrubs Costume Veterinarian Costume Doctor...
Kids Scrubs Set:Scrubs*1,trousers*1,cap*1,mask*1,stethoscope*1,glasses*1,nursing clipboard*1,whiteboard*1,whiteboard pen*1.The high-quality doctor scrubs costume and doctor accessories can make you dress more easily.
Material And Size:It is made of cotton and polyester fiber(65% polyester 35% cotton), soft and comfortable! Hand wash or machine wash in cold water. Easy to take care of.There are four sizes available for children aged 3-10. Please refer to our size pictures carefully before purchasing
Stethoscope for Kids That Really Works:The doctor toy we provide can work realistically. You can really hear the heartbeat with it. This makes the pretend doctor game more playable
Nursing Clipboard and Double-sided Reusable Whiteboard:when dressing up, you can use the whiteboard to record the work and put it on the nurse's clipboard. Such accessories provide more real dressing energy.Of course, in addition to the role of accessories, they also have more uses. They can well complete all uses of the clipboard and whiteboard
Suitable Occasion: It is very suitable for doctors' theme parties and career day costumes. The rich accessories make it also suitable for birthday party gifts and holidays (Children's Day, Christmas, Halloween, Thanksgiving & New Years)
Bestseller No. 4
Meland Princess Dresses for Girls - Light Up Princess Costume for Little Girls, Halloween Costumes...
Light Up Princess Dress Full of Enchantment and Wonder Let Your Girls Be The Focus in Crowd. Meland toddler dress up clothes for girls crafted with fairy string lights, including light up princess dress and braid, princess bag, necklace, bracelet, princess crown and wand. Turn on the lights in the dark which will transform little girls into a magical & dazzling princess! String lights can be removed from the underskirts.
Enjoy The Princess Dress up with Meland Soft & Kids-Friendly Princess Dresses. Designed with 3 layers for better fluffy and comfort. The lining is made of soft and durable polyester which is comfy enough and friendly to girls' delicate skin. The top layer is gentle gauze with butterflies made of blue sequins for the most beautiful princess design. Hand wash recommended.
Fabulous Princess Costume Featured with Sequin Bodice and Lace Trim for The Most Exquisite Princess Dress Up. The front of the bodice is covered in bling-bling purple sequins, and the collar, sleeves and hemline are trimmed in pure and elegant lace. Meland fluffy princess dress up clothes for little girls with noble purple color and sophisticated details is the best gifts for girls who loves princess dress up & pretend play!
Adorable Princess Role Play Costume for Making Little Girls' Princess Dream Come to Life. Every girl has a dream of being a princess, give her Meland princess toys and fulfill her little wish. Let her become confident, gain aesthetics in dressing up and see her gladly dancing in house like a real princess in Meland girls dress up clothes for play.
Stylish Light up Toddler Princess Dress is Perfect for Many Occasions. The stylish toddler dress up clothes with princess accessories will let her shine in various occasions such as birthday parties, Halloween costumes for girls, cosplay, Christmas, etc. Perfect birthday/Halloween/Christmas gift for little girls 3 4 5 6 7 8 years old.
Bestseller No. 5
Spooktacular Creations Inflatable Costume Riding a Unicorn Air Blow-up Deluxe Halloween Costume...
Deluxe Version of Inflatable Dress Costume. Fit for Children from 4-6 Yrs.
Package Includes Instruction Sheet, Air Pump, and Cute Hat. Air Pump Requires Portable Power Bank or 4 AA Batteries. (Batteries not Included)
Perfect for Halloween Dress-ups, Halloween Costume Party, Halloween Night Event.
Use the Pocket Located Inside the Costume's Legs to Safely Store the Battery Pack. DO NOT put Battery Pack in Your Own Pocket Otherwise It Gets Overheated. Adjust the Direction of the Fan and Tighten the Drawstrings for the Best Inflating Performance.
MONEY BACK GUARANTEE- "Contact Seller" and we will refund you or ship you a replacement if the one you received fail to work in 90 days.
Sale
Bestseller No. 6
Bestseller No. 7
GRIVOS Girls Cowgirl Costume Movie Heroine Cosplay Pink cowgirl outfit Kids Western Dress up...
Vintage cowgirl costume is a gift for your sweet girls,which is cosplay outfits based on the costume worn by the characters in the popular live action movie.When your girl wears this cowgirl set that 100% restored the costume of heroine in the popular movie,your girl will stands out in the crowd.
The cowgirl outfit has Classic and sweet girl design,Cowgirl vest printed with star pattern ,Retro buttons, sweet and cool style.Elastic high Trouser waist, easy to wear and take off,comfortable and slimming ,more everyday to wear.The pink dress up Fabric is made of polyester fiber, soft and breathable.
The Pink cosplay costume set is not only perfect for role play, but also Perfect for daily wear, halloween cosplay, party event, school play, video shooting,theme party,christmas,carnival, cosplay costume, performance, role playing Game,etc. Add crazy and fun atmosphere to party.
Package Included:1*Cowgirl vest,1*flared pants,1*classic scarf ,1*Clip-on Star tassel earrings.The perfect Sweet Live Version Outfit,your movie fans girls is worth having the girl's cowgirl costume set.
Warm Tips:The 2023 New live action movie Heroine costume Cosplay dress Up for girls ,Suit for 4-12 Years cool girls. And age is only an approximation of size. Please measure the actual body size and refer to the Size Chart to choose a proper size for best fit.Hand washing is recommended.
Sale
Bestseller No. 8
Bestseller No. 9
Marvel Spider-Man Spider-Gwen Ghost Spider Little Girls Cosplay T-Shirt and Leggings 6
Jersey, 95% Polyester , 5% Spandex
Officially licensed Marvel Spider-Verse little girls short sleeve graphic tee shirt and cute and stylish leggings
Dress-up cosplay design; Awesome screen print design; Comfortable hood lining; Awesome soft hand screen print with gold metallic ink; Elastic waist for better fit; Pull on closure
Durable and long-lasting graphic tshirt and leggings set with a comfortable fit and an easy to dress design making it the essential cosplay outfit for your active kid
Youth fashion tees and pants with cool character designs your child will love to wear; made from soft clothing material that is safe on children's skin
Bestseller No. 10
Luucio Girls Police Officer Costume for Kids, Police Costume for Kids, Halloween Costume for Girls,...
【All-In-One Deluxe Police Costume for Kids】 - Luucio kids police officer costume toy set for girls come with everything you need for the best police experience, including police hat, police shirt, police skirt, belt, police card, holster, whistle, pretend walkie-talkie, police glasses, etc. Best fit for kids ages 10-12.
【Premium Quality & Safe】 - Luucio police costume for kids are made of 100% polyester, double Stitching and realistic looking. With real buttons, real shirt pockets, and delicate embroidery. Double Stitching Safety Test Approved. Skin-friendly, safe for kids, durable, and washable. (NOTE: Do Not Bleach)
【Perfect for Muti-Scenario Play】 - This super value police costume pack for girls is not only perfect for Halloween dress up parties, but also suitable for theme party costumes, Carnival cosplay, and brithday parties, school play costume, and more. Add lots of fun to your Halloween party and other theme activities.
【Cop Costume for Girls】 - A full police costume is perfect for Halloween dress-up parties and will help develop kids social skills and communication skills. The police skirt is timeless A-line pleated style and your little girl will feel like a real police officer, take charge of winning the Halloween costume party contest when her choose to dress up as a police officer for Halloween.
【Police Officer Costume Size】 - T4 Size: recommend for kids ages 2-3. Small Size: recommend for kids ages 4-5. Medium Size: recommend for kids ages 5-7. Large Size: recommend for kids ages 8-10. Extra Large Size: recommend for kids ages 10-12. (Tips: This is only the recommended age. Please choose the size according to your kid's height, fat, and thin.) A full kids police dress-up set will let your child feel like a real police. Cultivate their love for the noblest of professions.
Last update 2022-10-17 at 11:53