We scoured the internet to find the coolest Halloween Costumes for men under $50. Here's our list for 2022. Some of these costumes would be great for women too.
What are your Halloween plans this year? Whether you are staying home passing out candy to trick-or-treaters, taking to the streets with the kids, or hitting up a Halloween party or event, a good costume is essential. An easy and reasonably priced option for those on the hunt for a costume is to order one through Amazon Prime. You can find something great to dress up as and have it delivered (for free) to your door in just a day or two. Here is a list of the best Halloween costumes for men for 2022.
Banana Costume for Adults – $40
A banana costume is always a great choice! More research may be required, but this banana suit will most likely get you more smiles and funny interactions with the people around you than any other choice available.
MarioKart lovers will fear your wrath!
The prudes in your group will be thankful you didn't come as an eggplant.
Inflatable Eggplant Costume for Adults – $51
Maybe you just like eggplant. Maybe someone in your life likes eggplant.
Maybe you want to make people laugh.
Either way, this eggplant costume is sure to rise to the occasion. And it's inflatable…so you can be any size you want. Score!
Inflatable Tube Man Costume for Adults – $42
Grab this Inflatable Tube Man costume early and get practicing your awkward arm flailing technique and contortion work in time for Halloween. Hang out near a car dealership or mattress store and confuse everyone who drives by!
No one will think you're weird, it's Halloween! US flag inflatable tube man also available.
Inflatable Shark Costume for Adults – $36
Spend Halloween as your favorite apex predator this year! Perhaps you could carry around a speaker playing the Jaw theme song on repeat, or ask everyone you encounter whether they've seen Nemo in the area. So many fun possibilities with this one!

And he's a cute apex predator, which means you'll get lots of love.
Super Mario Costume for Adults – $40
Super Mario has been going strong for decades now. This totally classic costume gives you a free pass to run around the neighborhood breaking bricks with your head, leaping to the tops of flagpoles, and rescuing princesses. Get into some pipes.
Or you could skip all that and stick to the more traditional Halloween activities. Your call.
Grim Reaper Costume for Adults – $30
Who doesn't feel a little freaked out by the sight of the Grim Reaper? This spine-chilling reaper costume has glowing red eyes and includes the reaper's trademark scythe.
You will be feared by all those who cross your path. Goth kids might actually finally respect you!
Inflatable Unicorn Skeleton Rider Costume for Adults – $53
Is riding majestically upon an inflatable unicorn skeleton the first thing that comes to mind when planning out your Halloween? Perhaps not. But now that you know the option is available, why waste your time thinking about anything else?
Easy choice. We ride at dusk!
Taco-man Costume for Adults – $36 (on sale)
Tacos have never been and never will be a bad idea! Now you can finally channel your love of the taco and become one with the taco by dressing up as the taco. Maybe you could even add a cape and become some kind of Taco-man superhero creation.
Don't taco 'bout this, just do it!
You're food…you're bound to get lots of love!
Scary Predator Mask/Helmet for Adults – $54
So this one isn't a full costume, but hey, even Predator probably needs to go out in street clothes every now and again.
Throw on some jeans and a slightly bloodied tee shirt, and hit the streets with this very real-looking Predator mask/helmet.
Sure to impress. Some people might even say you look better this way!
Mustard Bottle Costume for Adults – $27
Is mustard the king of condiments? Yes, absolutely. But even if you somehow don't agree with that, walking around all Halloween as a brightly colored mustard bottle is probably not a bad way to spend your Halloween.
Go out and find someone dressed as a bottle of ketchup to snuggle up to.
If you're more of a Ranch dressing fan, well that's also an option.
Inflatable Alien Abduction Costume for Adults – $46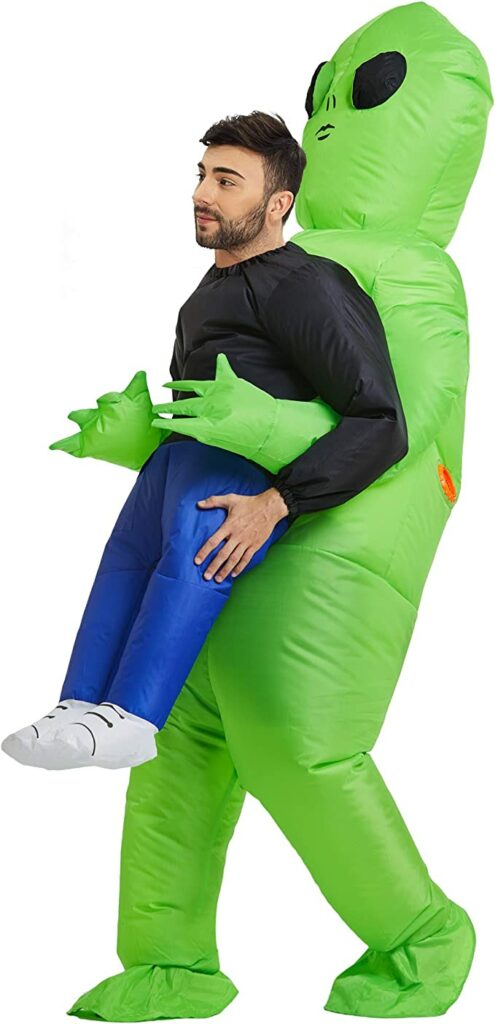 Being carried away against your will by an alien rates pretty high on the list of events you don't want happening to you. This inflatable alien abduction costume will definitely allow you to play up the terror of that possibility.
On the other hand, the alien doesn't look too hostile or unfriendly. So maybe you two are buddies and your alien pal is just carrying you around so your legs don't get tired.
Either way, this is a good one…super funny.
Oktoberfest Costume for Adults- $40+
Lovers of beer and oompah music will feel right at home spending Halloween in this Oktoberfest garb. This is the perfect costume to hit the local pub and dance on the tables, or just 'cheers' with all the ghouls, goblins, and Ghostbusters.
Prost!
Creepy Clown Costume for Adults – $43+
Some people find clowns to be creepy even when they aren't trying to be. So just imagine if you put a little effort into cranking up the creepiness factor even higher!
This weird and utterly unsettling creepy clown costume will cause a stir and really freak everyone out. Neighborhood dogs might bark and chase you, but it's only for one night.
Get Your Men's Halloween Costume Quickly
Well, there you have it. The best Halloween costumes available for men for under $50 in 2022.
Amazon Prime offers free shipping and 1 or 2-day delivery on a wide variety of fun and creepy Halloween costumes. Sign up for a free trial via the link above and get free shipping on your Halloween costume. Cancel at any time.
Get your costume early and be ready for all the Halloween fun! With Amazon Prime, you also get exclusive access to live MMA fights Thursday night NFL football, the Lord of the Rings TV series, free music, and a lot more.
Last update 2022-10-17 at 11:53