Full Body 3D Best Chair Massager
Give yourself the best massage you deserve with this 3D best chair massager. This chair designed by over 25 doctors, surgeons, chiropractors, and pain specialists. When you sit in the chair, it scans your body then positions the massage rollers so you have the best massage tailored to your needs.
Description
Medical Breakthrough 6 v4 Recliner 3D Best Chair Massager
People buy massage chair either to achieve optimal relaxation or for slow physical recovery. Like for patients who have chronic back pain problems, this chair can help them a lot in lessening the pain. It also provides comfort for most users.
Continue reading and find out why we think the Medical Breakthrough 6 massage chair is one of the best from the many brands on the market.
Features:
Doctor Based:

The only massage chair designed by over 25 doctors, surgeons, chiropractors, and pain specialists

Medical Body Scan:

 When you first sit in the chair, it will scan your body to perfectly customize the position of the massage rollers, so each massage it delivers is the one you need.

Advanced 3D Technology: 

With the next generation of 3D massage rollers, you get improved range and flexibility. The 3D technology allows you to control the length of rollers that extend out from the backrest giving you a deeper massage experience.

Zero Gravity:

 This special position distributes your weight evenly across the chair so you will feel virtually weightless, ensuring a deep sense of relaxation as you get a soothing massage

Chiropractic Back Stretch:

The inflatable airbags in the chair will grip your hips and gently stretch the muscles in your back, relieving tight muscles and boosting spinal health.

Bluetooth:

 Connect your phone to your new massage chair to listen to any song in your library.

Cushions:

 Customize your massage chair. Every massage chair from Medical Breakthrough comes with extra padding available for free

World Massage: 

With all of the customization settings and pre-program massage functions, you can enjoy massages from all over the world in one chair.

Unlimited Customization: 

Medical Breakthrough provides a completely customizable massage chair by utilizing an adjustable footrest and shoulder airbags to adjust to any user's height and width. Recline as far or as little as you want, choose your massage and adjust virtually any aspect.

Wheels: 

Comes with wheels on the bottom so it's easy to move it around your home or office.

Healing Air Cells: 

Comes in many shapes and sizes around the chair. This gives you a softer and more relaxing surface for your chair.

Heated Massage:

 Enjoy the heating function on your chair during your massage with just the push of a button.

Full Body Massage:

 From the top of the head down to the toes.

Foot Roller and Calf Massage:

 The rollers on the feet and calves also feature a heated massage.

State of the art Knuckles and Rollers: 

Created and engineered to form closely and comfortably to your body.

Wall-Hugger: 

Using its zero-gravity sliding platform, the chair fully reclines when you place it just 3 inches away from a wall.
This truly is the Ultimate Medical Breakthrough, a massage chair programmed with multiple systems to help heal your body. The Advance Medical Care Systems is made up of several systems in Breakthrough 9 developed over the past 10 years to help take care of health on a daily basis. Daily because you will be using the chair and the Advance Medical Care Systems every single day to stay healthy. Below are just a few of the systems that make up the Advance Medical Care Systems.
The unique Reflexology Foot Massage System is the first system in the world to do a Complete Reflexology Foot Massage. What does this mean? It means every inch of your feet will be massaged by multiple techniques, and the system is equipped with 3 rows of rollers that cover the entire sole of the foot. The system also offers Artificial Human Scraping Therapy Massage from heel to toe.
Getting a massage by a real human masseuse and a professional stretch by a licensed chiropractor is one of the best feelings. The only problem is that getting both on a daily basis can get very expensive. But now you get it done in the comfort of your own home.
With The Human Hand Massage System, you will feel like there is a real human masseuse/chiropractor in your own home who is personally massaging you and giving you a full-body stretch. We have developed 6 different types of human hand massages: Kneading, Flapping, Kneading & Flapping Combined, Shiatsu, Knocking and Rolling (Back Stretch). Combining these 6 hand massages with the 100+ Aircell system, and the Foot & Hand Reflexology Massage System, you will feel like.
Medical Breakthrough Massage Chairs have the largest coverage maps and massage more areas of your body than any other competitor. We have revolutionized this design in the chairs by reinventing the airbags and rollers to cover more areas. The massage rollers cover a wider range with the click of a button on the remote and can massage you from your neck and down to your buttocks. We also include up to 167 air cells in the Medical Breakthrough Massage Chairs which is the most of any other massage chair on the market.
Stretching daily is an important part of optimum health. Daily stretching can improve energy and balance, relieve pain, and prevent future injury. Because of how beneficial it is for your body to stretch, especially with yoga, we have built the Complete Full Body Yoga Stretch function into every Medical Breakthrough massage chair. The Full Body Yoga Stretch function holds your hips in place while your legs are pulled down and your back is stretched. Get amazing stretches every single day with the Full Body Yoga Stretch function and start reaping the health benefits now.
While many massage chair manufacturers claim that their chairs have body scanning features, most fail to work properly. The highly advanced Smart Medical Scan technology will detect every part of your body, and deliver a targeted, soothing massage; additionally, the scan can be adjusted manually as well. After you try the True 4D Arm Massage, you will never want to live without this chair. It fully covers every inch of your arms, hands, fingers, and fingertips, and massages them from top to bottom, underneath and sideways, all at the same time. Even a real masseuse cannot do all these things at once! This is why you will feel so much better after getting your hand massaged by the True 4D Arm Massage.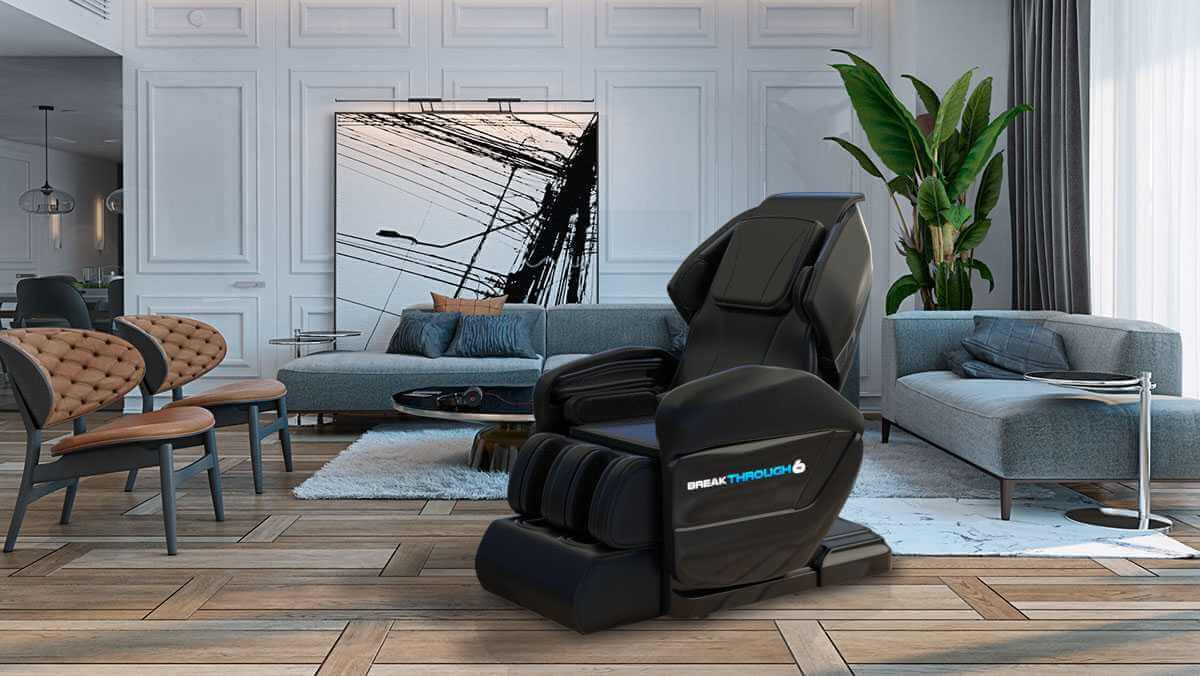 Superior L-Track Design Chair

One of the important features of Medical Breakthrough 6 Massage Chair Recliner is its superior L-track design.
The shape of the chair fits into your body curves easily.
When reclined, your body will be in zero gravity position, so you can relax and enjoy the massage you long for.
As compared to regular massage rollers, this one makes sure that it is a boyfriend massage chair to users with its vertically positioned rollers imitating an L-shape massage direction.

The design is done in four separate rollers, each of which works in harmony to shape the idiosyncratic back-frame of users.
The massage technique keeps users from being subjected to discomfort. Thus, it does not matter if they have a narrow or broad body-frame.
The massaging motion is initiated by the L-track roller system starting from the neck all the way below the thigh to make sure that tension points trapped in the body are removed.

In Designer Showcase in China

Memory Functions and 5 Levels of Speed

The Massage Breakthrough 6 massage chair has two memory functions that allow you to store your preferred massage settings and your most comfortable massage postures.
The massage chair store this setting, so you don't have to set it again for your next use. It has five levels of speed to provide you immediate relief.

Automatic Full-Body Scanner


The chair makes use of unmatched massaging methods to provide you the best comfort.
It automatically detects the position of your body and adjusts the chair to the right position to provide you the therapeutic massage you want.
The chair can accommodate even the tall users since the footrest is adjustable.
The Medical Breakthrough 6 Massage Chair Recliner has a body-scanner that makes a significant difference in the most comfortable way which is provided to each user.
It enables for all massage techniques and motions to align themselves with every type of user properly.

In a Studio Designer Showcase

Automatic Massage Function and Customized Settings

This massage chair has six different preset massage settings. Medical professionals like doctors, chiro-practitioners, and therapists were consulted to help in creating a specially designed massage chair to achieve the best results.
Together with the different automatic massage settings, you can manually set massage programs with various recline positions, massage intensities, motions, and massage period.
Flapping, kneading, rolling, knocking, and Shiatsu or combining any two can be selected as a form of massaging motion for customized massage settings.
To improve the ability for users to set their massage techniques, the Medical Breakthrough 6 v4 Massage Chair enables selective body areas with customized massage motions.
Users can set it for upper body massages to fixed points, provide a full-body massage experience or a specific part of the body.
You can adjust it manually between narrow coverage, wide massage coverage, and medium to achieve the mid-point massage experience.

The Airbag Massage Technique

Airbags are also used in this massage chair to provide acupressure massaging techniques.
The airbags can provide a complete body massage, yet users can still enjoy the option to choose from targeted air pressure massage or a full body massage within the legs or the armrest.
The airbag massage intensity can be changed and can be chosen among the three different massage intensities.

In a Hotel in Anchorage, AK

Zero-Gravity Design to Save Space

For those who want to recover from chronic back pains, this massage chair has zero-gravity positioning.
The zero-gravity design saves space which enables the massage chair to recline in a specific position with minimalistic back-space.
It also puts the entire body of the users at an angle that helps balance the strain positioned on the lower vertebrae of users. This is achieved by the Medical Breakthrough 6 Massage Chair by placing users in a reclined angle that imitates the stance of astronauts before they take-off.

Innovative Chiropractic Back Stretching Technology


Another important element every massage chair should have. This feature promises to improve medical healing and recovery.
The ability to stretch the user's body is what we are referring to. Stretching is known as a form of not just healing but relieving the body of any strain or tension buildup.
Through stretching and decreasing the tension points within the user's body, the Lymphatic flow increases. Thus, excreting toxins and bacteria found in the body at a higher rate.
The highly specialized Chiropractic stretch added in the Medical Breakthrough 6 Massage Chair puts the users in an automatic positioning that stretches the body strategically.
As soon as the user is positioned within their preferred position, high coverage compression airbags hold on the back of the users firmly to stretch the muscles even further.
The chair focuses on the spinal cord, back muscles, and the surrounding areas. It releases tension trapped within thus balancing the vertebrae.

The Chiropractic Back-stretching features are one of the main reasons why it is the topmost massage chair.

It's recommended to those who are suffering from chronic back pains or other ailments associated with muscle and back pains.
PROS
This massage chair includes a highly efficient heating system incorporated within to focus on the lower back. The heat transmitters integrated within can be controlled manually.

The foot and calf massager have deep tissue rollers that target the core nerve endings in the user's feet for great relaxation and healing.

The user's toes are likewise targeted through dual pairs of papillae.
CONS
This recliner massage chair weighs 200 lbs., which makes it hard for a person to move it around without any help or assistance.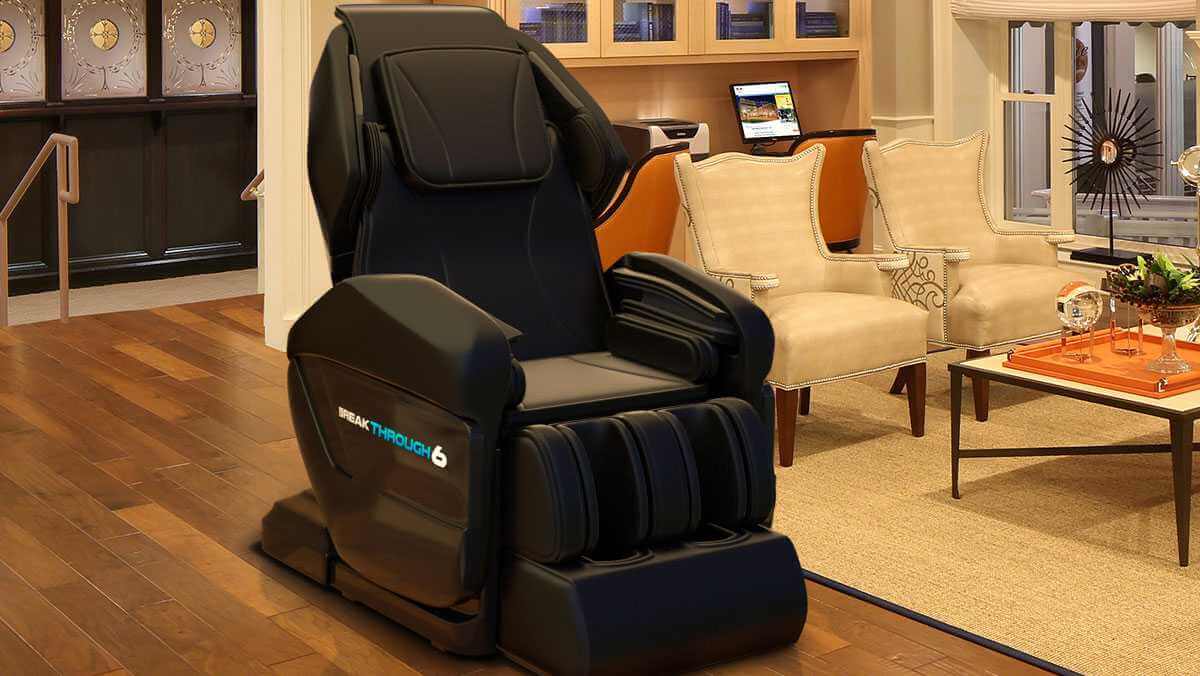 Last update 2022-10-17 at 11:53